I often see people asking this question: "Can I fly to a waypoint and then capture a 360-degree panorama?"
Litchi may provide this feature at some point in the future but it is not available today. There is a "Panorama Preset" as a camera action, however, this preset captures only one row of photos. So, depending on what you require, this may or may not work for you.
To make the capturing of a 360-degree panorama at a waypoint available now, I have created a web application that can be used to create a Litchi mission to capture 22 photos at each defined waypoint that can be stitched into 360-degree panoramas.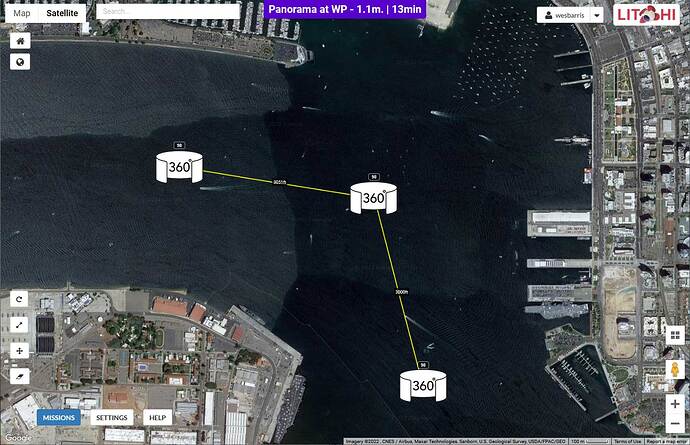 My solution does include some idiosyncrasies due to constraints of Litchi waypoint missions. These constraints include:
The "Tilt Camera" waypoint action does not allow positive gimbal pitch angles.
No two adjacent waypoints can share the same coordinates.
A maximum of 15 camera actions can be configured per waypoint.
To use this software, simply create a Litchi mission with one or more waypoints (maximum of 10) where the height of each waypoint specifies the height at which each 360-degree panorama is to be captured. Export the CSV file from Litchi's Mission Hub and use it as an input to my web application. The default gimbal pitch angles used are the same as those used in Litchi's auto-panorama function. The output of my web application should then be imported back into Litchi's Mission Hub as a new mission.
Full instructions and details can be found within this web application.
I have tested these panorama missions with success on:
A DJI Go drone
A DJI Go4 drone
A DJI Fly drone