Hi, I have my mission setup with Cruising speed of 6m/s and Max flight speed of 8m/s.
For some Waypoints I defined lower speeds of 4m/s and 2m/s
When starting the mission I was surprised by this (yellow) warning: "At least one waypoint has a custom speed set. If signal is lost during the mission, the aircraft will continue the mission at the speed it was traveling at when it lost signal"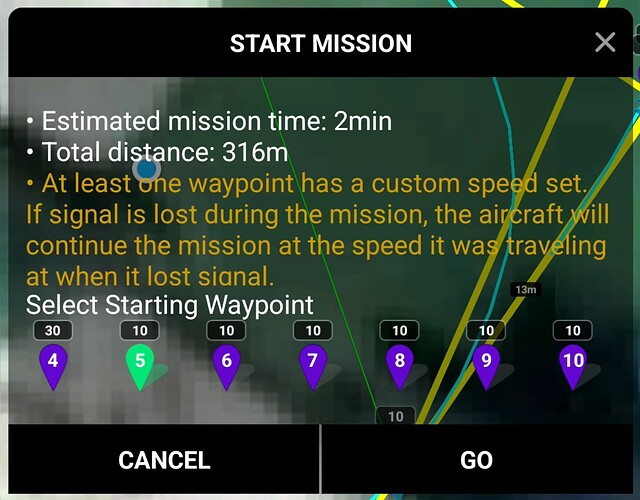 I can't find documentation on this warning (is it really applicable for sdk-stick-driven Mini2 ?

)
I don't get this warning when no custom speed is set for any waypoint. How come it is not applicable then?
Does this mean a possible fly away scenario? I was under the impression that Mini2 cannot do waypoints autonomously, but it can do RTH autonomously no problem - had that couple of times, usually simple autonomous rising to RTH altitude solved the signal problem.
I believe that for these "non-autonomous waypoint stick-driven drones" - like Mini(2/SE), Air2(S) - upon losing the signal, Litchi should issue full stop (via stick movements - usually stick control is the last one to go out) and wait for signal regain (I believe/hope drone issues RTH by itself), perhaps prompting the user to resume the mission.