I haven't bought or used Litchi. I am hoping an experienced user can shed some light on my project's feasibility.
I want to video a rower on a canal so the rowing technique can be analyzed with my DJI Phantom 4 Pro. The canal is a half mile long and 115 feet wide, tree, and building lined. The rower will be closer to one side or the other, depending on time of day and lighting and we can keep the drone 30' away from the shore, trees, and bushes in our mission plan. The rowing shell moves at up to 11 mph. The rower wants the full boat plus some room 6-10' front and back to be filmed from the side so the drone would be shooting the boat & rower while flying sideways. Drone height is best at 8 – 10 feet above the water. There is not full line of sight for the drone while following the rower. When I did this shoot prior, I was the rower and had a phone in the boat and a headset on so an eye could be kept on the drone for the safety of the drone, the rower, and the trees around the lake

. A friend flew the drone who is a very experienced drone pilot and we got great video. This time I want to shoot my wife rowing and her me. I'm an okay drone pilot and she is inexperienced.
I am thinking that Litchi might make this shoot easier. My understanding is that the mission could have a waypoint at each end of the rowing course and the drone could fly the path +/- 16' of error which would miss any foilage. The Litchi pilot would then just need to keep the rower framed in the screen by controlling the speed of the drone. My questions are would the drone be able to safely fly at 10' above the water at 11 mph flying sideways while the Litchi operator just adjusts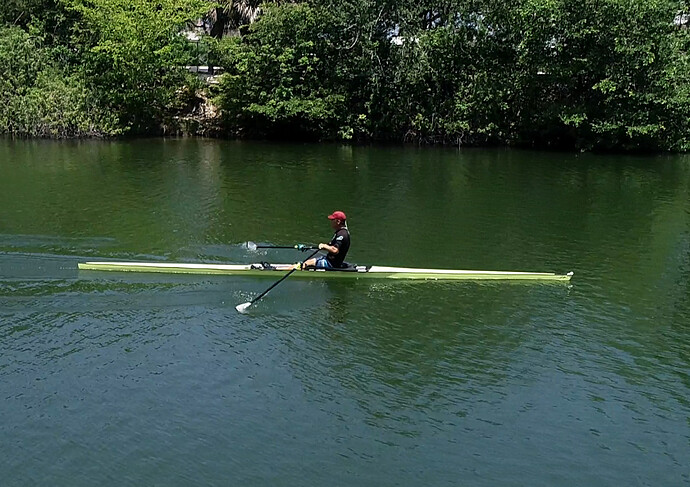 the speed to keep the boat centered in the video? Is this how it would work? Any better solutions?
We tried follow me in DJI Go 4 app and it didn't work well. I'm also concerned using follow me that the drone could hit something while flying sideways at 11 mph with no avoidance.
Thanks!