WAYPOINT (modification, modification)
By default, we can set the distance between two waypoints from 0.6 to 1999 meters!
Q: Can you change this distance 0.6 = 0?
EXAMPLE: You need to set two waypoints at the same point 0 (Note that you need waypoint 1 and 2 to be at the same longitude and latitude and altitude)! Attached screenshots below.


Is it possible to increase the action for one waypoint?
Now it is possible to set up to 15 actions for one waypoint at the same time.
Is it possible to increase the number of actions from 1 to 150, for one waypoint?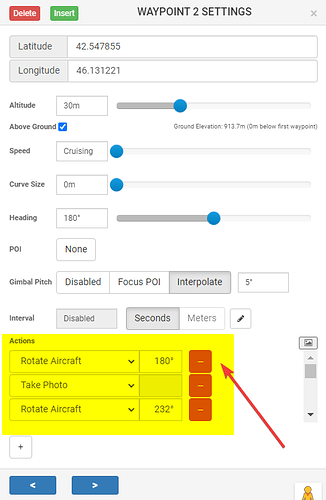 P.S. All these modifications are necessary for shooting a 360 AEB PANORAMA. As you can see in the video, the possibility of such shooting is already implemented in the VLM program! But, unfortunately, LITCHI does not allow this mission to be realized due to the fact that all waypoints are at the same point (coordinates, and altitude). The minimum LITCHI requirement is 0.6 meters between two waypoints!
For those who want to try in the Litchi Mission Planner
Sincerely, Magomed Abdulaev Dag-tools.