Everyone works but you don't
That was not very helpfull …

Yeah, not terribly good information.
I'm betting they missed something in the code that recognizes control-click as a right-click on Mac OS. Macs only have the trackpad itself and no additional buttons. I'm going to get an actual mouse and see if that solves it. I was just wondering if anyone else has experienced something similar.
I don't use Mac, but I saw a quick item about "A two finger click" to add POI. Does that makes sense?
It might work that way on newer macs, but I did just discover that using a mouse instead of the trackpad works. Is there a bug report or software feedback page? I'd like to report the issue.
Not sure, but there is a Beta User area to report issues.
Hi,
You can add POI on Mission Hub with Macbook by clicking on your trackpad with 2 fingers.
nope, does not work, 2 finger click or right click are the same thing anyway.
This is what you get with right click, it opens the normal finder's right click menu: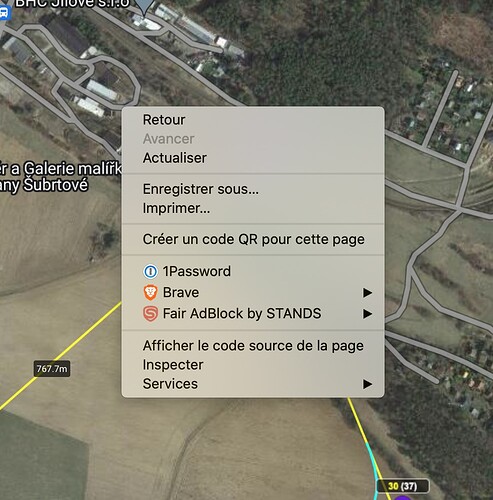 no, it does not work, see my previous post
With Chromium apps (Chrome, Brave etc.) I managed to add a POI by double (or triple) clicking, but I was restricted to only one POI…
Adding POIs with right-clicking works with Safari and Firefox though.
FlyLitchi could you please fix this!?
Thanks
i got the same problem.
I am on Mac mini, keyboard and mouse.
not working on chrome safari
flylitchi please fix it.
I'm not sure if this is something Litchi can "fix". I don't own a Mac but the the ways I have heard to simulate a "right-click" on a Mac (with a one-button mouse) include:
Control-click (using trackpad)
Two fingers on the trackpad
Click with thumb while contacting trackpad with two fingers
Assign the bottom-right corner as a right-click zone in your System Preferences
Attach a two-button mouse
I don't know if the above will help (I cannot test them) and I'm sorry if they don't work.
A really ugly method would be to add your POIs using the Litchi app and then open that mission in the Litchi Hub and complete the mission configuration. I hope you don't have to resort to this.
Let us know if any of these methods work.
Hey Jason, I don't have a solution and this post is old so maybe you've figured it out by now. I just wanted to say you're not alone with this. I'm just figuring out the Litchi app and I'm using Mac as well. It seems just about everything I want to do won't work on a mac, or is a hassle. I'm almost ready to go back to the DJI app.
The Litchi app is meant to run on your flying device (iPhone, iPad, Android device).
The Mission Hub is a web application that is run inside a web browser.
Please make it clear what exactly you are trying to do. It sounds like you are trying to run the app on your Mac. Once you make it clear what you are running on what device, perhaps someone can help.
Buy a mouse right click adds poi Mac track pad no right click
Hi anyone resolved this issue? I am working on an iMac with Chrome… latest versions.
two finger click on trac pad invokes POV dialog
ctrl + right click

…